You might already have guessed that the outrage surrounding Robin Thicke's Blurred Lines hasn't prevented it from becoming the year's biggest-selling single. There was a chance that sales would nosedive after a succession of student unions banned the song – «utterly degrading to the female subject», «promoting a worrying attitude to sex and consent», etc – but it doesn't seem terribly likely. It also hardly comes as a shock to learn that the Rolling Stones made a huge amount of money from touring – tickets for the next leg of their 50th anniversary tour in Japan range from £83 to £473 – or that Psy's follow-up to Gangnam Style, Gentlemen, was one of the most-watched videos on YouTube. Perhaps someone out there is gasping in horror and disbelief at the implicit suggestion that Psy's popularity may be founded more on the public's desire to watch a chubby man do a funny dance than his sparkling musical oeuvre. Then again, perhaps not.
Indeed, everything appears to be proceeding much as you'd expect, until you reach the UK's top 10 selling albums of 2013. It was supposed to have been the year in which David Bowie's shock return and the huge promotional campaign around Daft Punk's Random Access Memories revived the old-fashioned notion that the release of an album can be a major cultural event. But for the first time since 1971, the year's biggest-selling album is the same as the biggest-selling album of last year: Emeli Sandé's Our Version Of Events. In fact, half of 2013's 10 biggest sellers came out in 2012. Daft Punk's Random Access Memories made it to number nine. David Bowie's The Next Day isn't there at all. There was, it seems, substantially more interest in discussing them than in buying them.
It's not the only surprise the top 10 holds. There's a commonly held belief that these are tough times for rock bands, that audiences are currently in thrall to dance music, hip hop, T&S and pop. Clearly no one informed the people who buy albums. Nearly half of the top 10 is comprised of guitar acts: Arctic Monkeys, Jake Bugg, Mumford And Sons and Bastille. Judged by sales alone, the latter – a London quartet who've had a fraction of the coverage afforded Daft Punk and David Bowie, and who are so anonymous in appearance, you rather picture them at rehearsals, looking at each other in bafflement and frowning, «Sorry, and you are…?» – are the year's biggest breakthrough success. They're one of only two artists who turn up in both the top 10 singles and albums of 2013 and in Spotify's top 10 most streamed tracks of the year.
That in itself tells you something about our times. We've gone back to an era not unlike the late 50s, when singles and albums are bought by entirely different markets. Judging by the charts, the latter are at once more largely the province of the middle-aged or even older, hence the commercial triumph of easy-listening crooner Michael Bublé, the soundtrack to Les Misérables and Time, the 27th solo album by Rod Stewart, at the age of 68. It's tempting to say that the people who are still buying them are old enough to remember a time when albums really were major cultural events.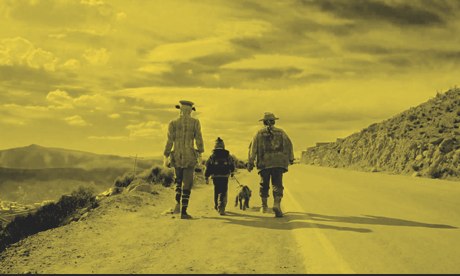 La La La featuring Sam Smith, by Naughty Boy: No1 UK music video.


Top 10 UK music videos
1 La La La featuring Sam Smith, by Naughty Boy.
2 Gentleman, by Psy.
3 Blurred Lines featuring TI, Pharrell, by Robin Thicke.
4 Wrecking Ball, by Miley Cyrus.
5 We Can't Stop, by Miley Cyrus.
6 Wake Me Up, by Avicii.
7 The Fox (What Does the Fox Say?), by Ylvis.
8 Get Lucky featuring Pharrell Williams, by Daft Punk.
9 Roar, by Katy Perry.
10 Waiting All Night featuring Ella Eyre, by Rudimental.
Source Article from http://www.theguardian.com/culture/2013/dec/28/what-we-liked-2013-popular-music