Hi Laura, how is Glastonbury treating you so far?
Glastonbury is amazing. The sun is shining. I haven't seen anybody apart from Rokia [Traoré], who opened. If you look at that lady, that's kind of who I'm aspiring to be and probably will never be! She's insanely beautiful in appearance and music.
How was your performance on the Pyramid stage?
It was amazing! It's like you're outside of yourself and there's nothing you can do but let it affect you. I try to just let it be.
What's the weirdest thing you've seen?
Probably my own bus! Honestly, be better organised, guys! It's from the 80s and it smells of vomit and wee. I mean, I am thankful to have a bus but we parked up next to the Rolling Stones crew and I could see them all sniggering and laughing at us.
Michael Eavis has said everyone should drink less. Are you taking his advice?
Really? Well, let me tell you something: when it's your first Glastonbury you need something. Even the Bible says so! No, I'm not the kind of person to get completely plastered but I don't think I would have coped without my glass of white wine before my performance.
Where would you hide if you were Edward Snowden?
Well, not in my tour bus! Maybe under my dress? Actually, yes, absolutely, there's room there.
Bootleg Beatles or the Rolling Stones?
OK, let me say that, in all honesty, I know less of the Stones than I do the Beatles, which is a pretty poor way of judging but it's true. So yes, Beatles!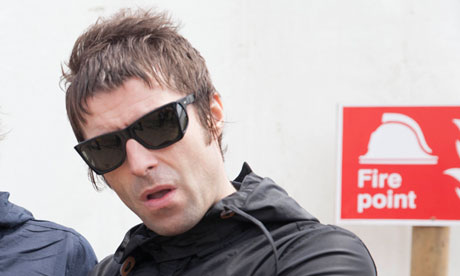 Liam Gallagher: 'I'll put in a big dry cleaning bill for this.' Photograph: Alicia Canter for the Guardian


Hi Liam, it's muddy and you're wearing suede shoes!
Oh yeah. Well I'm a big Suede fan. Am I worried about the mud ruining them? Nope, because I've got fucking loads of pairs and I can just get a new pair. I'll put in a big dry cleaning bill for this.
So your surprise set at 11am this morning – a bit of a wakeup call?
Wakeup call was 6 o'clock for me, mate. Turning up and playing good music is the best wakeup call you can get, though. Playing the best you can, singing the best you can … I thought we smashed it, mate. I just like the oddness of us playing at 11 o'clock. When someone asked us to do it we were like: «Yeah, why not?» I thought it was a bit early to get the rock'n'roll aggro out but it was one of the best gigs I've ever been involved in.
When you headlined back in 2004 as Oasis, Noel ended up apologising for the show.
Yeah, we had a bad one. It was the first time I used them in-ears and it was all a bit freaky. Today was miles better than that. Miles better, mate.
There's a rumour going around that you will be appearing with the Stones
I know, I know … funny that, innit? Turns out I'm not the only one who's full of shit!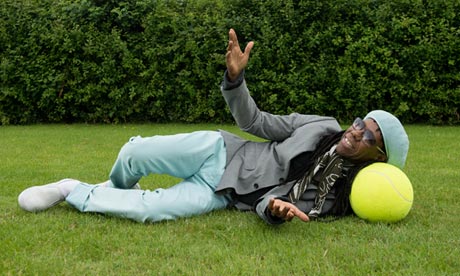 Nile Rodgers: 'I can probably get Prince to play.' Photograph: Christian Sinibaldi


Hi Nile, how's Glastonbury treating you so far?
I'm cool – there's no rain at least. I refuse to wear wellies so it had better not rain.
What's the best Glastonbury rumour you've heard?
That Daft Punk is playing! It's an ugly rumour. They'd never get in anyway; it took us ages to get through security. I was like: «Daft Punk are hidden in the trunk and they can't breathe, hurry up and let us through.»
Get Lucky is being blasted across the site. What's its secret?
I can't even speculate about why it's so popular. From our point of view it's an organic natural song that developed because of a series of accidents. What's the key to a Nile Rodgers groove? You have to be a little bit zany and fearless.
Will you be watching the Stones?
No, but I've seen the Stones a gazillion times. I produced Mick Jagger's first solo album so I know them well. Keith lives in the next town over from me in Connecticut. Mick's daughter Jade, who just got married, asked me to play her wedding. That's another rumour I keep hearing – that Ron Wood and I will be playing together for the first time but we already played together with Prince years ago.
Prince performing at Glastonbury is an annual rumour. How can we convince him to play?
Prince has never played Glastonbury? Wow, I can probably get Prince to play. I'll just call him up.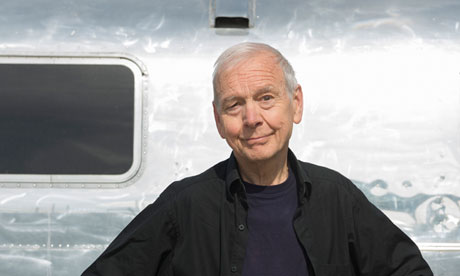 John Humphrys: 'I doubt I would ever go to a rock concert out of choice.' Photograph: Christian Sinibaldi


How is your Glastonbury 2013 so far? I don't have anything to compare it to. It's the first time I've been to a music festival of any kind. Let's be honest, if it had been raining it would have been horrible. I really can't imagine traipsing around this place, up to the eyeballs in mud and being rained on. It would be ghastly. But as we speak, the sun is shining, the ground is dry and it is glorious. There's a lovely spirit about the place.
What's the best thing you've seen so far? For the first time in my life I saw and heard the Arctic Monkeys last night and I got just a little bit carried away.
Do they have a new fan? I wouldn't go that far. I doubt that I would ever go to a rock concert out of choice.
Heard any big rumours? Not one. That's very disappointing. I'm a journalist and I haven't picked up any rumours.
Where would you be hiding if you were Edward Snowden? Definitely not in the Ecuadorean embassy. How about the Tazmanian wilderness? You would be a bit dependent on your own resources. There's nowhere to hide, is there, any longer?
Bootleg Beatles or the Stones? The Beatles. I prefer their music.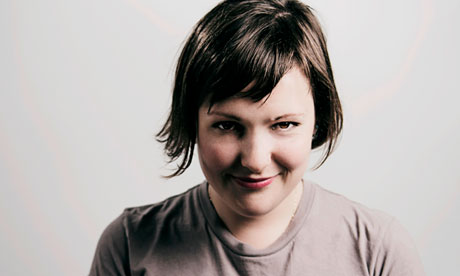 Josie Long: 'I don't like the Stones because Mick Jagger has slept with so many women.' Photograph: Idil Sukan


How has your Glastonbury 2013 been so far? It's been wonderful fun. I got here on Friday afternoon and my gig was at 6.30 on the Friday and since then I have just been enjoying myself.
What's the best thing you've seen so far? The Proclaimers. Hands down. No contest. The Proclaimers are incredible. At the end they played 500 Miles and they said: «We're going to play why you're all here now,» and I was gutted because I was like: «No, I'm here for your many other beautiful songs and your attitude and your charisma, and the fact that you're twins.»
Have you been drinking less this Glastonbury like Michael Eavis said? No, I drank a lot of dark rum last night. Plus my boyfriend is from Scotland and he brought two bottles of Buckfast down that we've drunk.
Where would you hide if you were Edward Snowden? If I was in Glastonbury I'd hide in the Rabbit Hole tent.
Bootleg Beatles or The Rolling Stones? Neither! I don't like the Rolling Stones because Mick Jagger has slept with so many women I find him distasteful in principle. And the Bootleg Beatles? That is not the Beatles! That's a tribute band. You might as well go out to fucking O'Neill's. Neither.
Hi Matt, who are you looking forward to seeing?
I saw some of the Arctic Monkeys. I really want to see the Stones. I want to see Nas, Tyler The Creator. I missed Tame Impala, which I was a bit gutted about because I really like them. I bumped into Noel Gallagher and he said Chic were great. He's got pretty fine taste in music. I'm just hanging out really. I like the food, that little shopping strip.
Heard any good rumours about secret sets?
Daft Punk – and Bowie! If Daft Punk play, though, I might have a heart attack – I would love to see them.
You're here to share the stage with Brian Cox at the Free University of Glastonbury …
He doesn't know that I'm coming on, and then I'm going to be outwitted and outclassed by Brian, as always. The first time I met him was on the Jonathan Ross show, and he was so nice to me – I was nervous because it was the first chat show I'd done. Every time I see him we say hello – we have quite a nice spacey-timey connection.
Who's the next Doctor Who?
Coxy! I have no clue.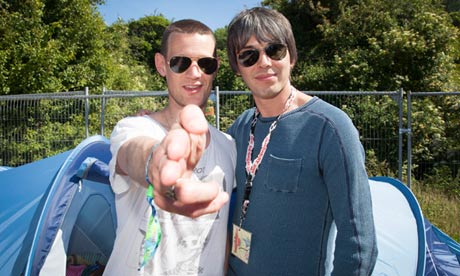 Matt Smith with Brian Cox: 'I'm going to the outwitted and outclassed by Brian.' Photograph: Alicia Canter


Brian Cox
How's Glastonbury treating you?
Sort of busy. We did the Infinite Monkey Cage radio show – 4,000 people in a tent talking about quantum cosmology. We did it two years ago with Monkey Cage and decided to do something a bit fluffy – the science of mud or something. This year we thought, no, we're going to find the most difficult piece of physics possible and discuss it for an hour. It seemed to go great – everyone was quiet, I don't know whether that was because they were asleep or staring at us because we were talking about a time when the universe was a million million million million times smaller than a melon! The serious point, I suppose, is that physics is becoming part of popular culture, which it always should be – you can see it, you turn up to Glastonbury and 4,000 people turn up to a physics chat. It's the way the world should be.
Who are you looking forward to seeing?
I'm a big Elvis Costello fan, obviously the Stones – the Bootleg Beatles might be a good idea.
Where would you put Glastonbury on the cosmic scale?
Well, it's probably the biggest festival in the Milky Way – that we know of. We don't know of anywhere else in the universe where this happens, so it's unique.
Source Article from http://www.guardian.co.uk/music/2013/jun/30/bus-smells-wee-celebrities-glastonbury-experience