Sixty years ago at the University of Michigan, a man with a stronger stomach than mine conducted a long-winded experiment into chemical memory by teaching flatworms how to negotiate a maze then – of course! – grinding them up and then feeding them to other flatworms, who then supposedly magically «knew» how to negotiate the same maze. You might need to munch some of David Bowie's toenail clippings for an idea of what went down at the first Glastonbury, but for 2056's historians, chowing down on Yannis from Foals won't be necessary: the festival's 177,000 attendees are almost matched in quantity by media representatives relaying the experience for those who didn't get a ticket or, as Nick Grimshaw noted in his Friday afternoon Radio 1 broadcast from the site, «like live music but hate being in a field with drunk people».
I find live music hard work but I do like being in a field with drunk people. Still, this year I opted to experience Glastonbury not just from my sofa (how 2010) but from the kitchen (Zane Lowe's Radio 1 Essential Mix provided a perky accompaniment to some Friday evening ironing) and the back garden, which is where I checked out NME.com on my mobile and caught up with the furore over Alex Turner's new American accent while a lady removed a bees' nest from a tree stump.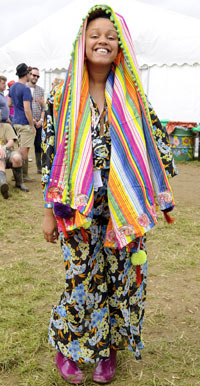 Gemma Cairney … supplying appropriate Glastonbury babble. Photograph: Jonathan Hordle/Rex Features


In the interests of transparency I should admit at this point that I am in the privileged position of living next door to one of south-east London's most noteworthy ukelele botherers, so much of my weekend has been soundtracked by a distant twanging noise. But even without those unsolicited Glastonbury «vibes» I still feel as if I've experienced the best the festival has to offer. Naturally a BBC3 post-gig Chase & Status interview (Gemma Cairney: «Describe it in one word»; Status: «Speechless») is not quite like being on site, but if you've visited Glastonbury more than once you've got the general idea of what The Farmer has to offer. Combine those genuine recollections with the false memory offered by iPlayer livestreaming Chic, and you're right there feeling hot and bothered in a dance tent.
And thanks to blanket coverage, one benefit of not being at Glastonbury in 2013 is that you actually get to see what's happening. I know that Nile Rodgers doesn't mind having his arm touched by Craig Charles. I also know that Jordan from Rizzle Kicks has a nice jumper with a fox on it, and I've now experienced the full HD horror of Miles Kane's union flag «ensemble». Over on 6 Music, Matt Everitt interviewed John Humphrys on Sunday afternoon. «Well,» Humphrys said. «I knew it was going to be horrible – far too many people, far too much noise and far too much rubbish everywhere. And I was right on all those points. Except, it wasn't horrible.» Then he described trying to sleep in a tent, «as bass sounds reverberate right through the soil into your very soul».
It took Humphrys, and his weary depiction of one man's attempt to sleep while a distant sound system whacks out some early-90s post-ambient noodling involving Steve Hillage, to make me really miss the farm. It's agreed that everything except the music makes Glastonbury what it is, but nobody has yet managed to capture the demented intensity of Shangri-La on Saturday night. Still, this may change. On Friday the BBC experimented with a pair of Google glasses attached to the drummer from a band called Turrentine Jones. The jerky and blurred movements soundtracked by mediocre guitar music suddenly brought the real Glastonbury to life. All it really needed was the feeling of having nonsense babbled at me by a confused stranger but, fortunately, Gemma Cairney wasn't far away.
Source Article from http://www.guardian.co.uk/music/2013/jun/30/glastonbury-television-radio-online-festival