Free virtual event : Learn how to leverage change for better IT
Something for the Weekend, Sir? Good news. A year on from the ICT debacle at my son's school, he has ditched the joint and found another place where his skills are more appreciated.
Faithful readers may remember – as for all you unfaithful readers, I understand the political parlance is to call you «sluts» – that a couple of days before he was due to embark upon that mighty educational experience and life-affirming struggle known as A Levels, the school decided that timetabling his ICT lessons was too complicated for them to be arsed with, and thus phoned up to tell him to pick another subject instead.
He chose Drama.
I don't mean to overrate my progeny's affinity for computing but I remain shocked even now that his potential career in digital things could be dispensed with in such an off-hand manner by The Powers That Ought To Know Better. What if a spotty, teenaged Tim Berners-Lee had been told he had to drop Maths in favour of Home Economics, or a timetable cock-up had forced a youthful Stephen Hawking out of Physics and into Tap-Dancing classes?
Just imagining a world in which Berners-Lee is a celebrity chef while Hawking is an X Factor judge is enough to make my head spin. What if Richard Dawkins had been bumped off the zoology course at Balliol College and sent to a seminary instead? What if Bill Gates had left school at 16 to get a labouring job on a road-digging crew? Oh, don't tempt me.
Inevitably, my son's first year in sixth form was a shambles, but as Manilow B (Yr 9) might have put it, he made it through the rain, and achieved the grades A C D C.
For those about to rock, eh?
With such auspicious grades, my son had no choice other than to land himself a place at the School of Rock. And so he did. He is now in Freshers' Week, which I imagine involves going to gigs around the town, carrying binoculars in order to get a better view of the lead guitarist's chord sequences.
Upon securing his place at the end of the summer holidays, he received a congratulatory present to die for: my brother-in-law handed over a trunk containing his entire collection of several hundred audio CDs. It's wide-ranging in style and all top-quality material. Several weeks later, we're still looking at the jewel cases stacked up near the front door. Where the heck is he going to find the time to rip all those CDs? He did a few and then had to move on: this dude has other things on his mind, such as scales to practise, driving lessons to take and Steam updates to download.
Personally, I like the idea of audio CDs in the same way that I liked vinyl albums and 45 RPM singles before them. Because they are physical objects you can pick up and throw around, you can share them very easily. When I buy music, I pay extra for the CD so that my wife and kids can pop it into the hi-fi when they like, and they do the same for me.
What CDs are rubbish at, though, are party playlists and personal stereos, but there you go. My view is that you can always rip a CD for personal use with a clear conscience, but copying your MP3s to lend to someone else feels exactly like the infant-slaughtering piracy that the law says it is.
Tower records
Back to the Manhattan skyline of CDs in their jewel cases at the front door, and we're not sure how to tackle them. We now have so many CDs that finding the one you're looking for is no longer an option. Years ago, my wife tried putting ours in alphabetic order in racks. Then I bought a new CD and put it in the wrong slot in the rack, causing a shift in the Earth's axis, producing volcanic eruptions and plagues of locusts before triggering the End of Days itself.
Up until this point, I was dismissive of seemingly pointless products such as digital jukeboxes like the Brennan JBs. Actually, I'm still dismissive: what are they for? Don't answer, I already know. They are for fuddy duddies who don't own a computer and therefore can't make MP3s by themselves. Or maybe not. I just don't understand them.
Perhaps what I need is one of those old multi-tray CD jukeboxes – not a Wurlitzer but those expensive things that we used to keep in the network backup storage cupboard back in the day – to load them and rip them ten at a time. Do these still exist? Can they be automated via iTunes? Have I nothing better to do than concern myself with this?
My son probably wonders what I'm bothered about, since his smartphone can only hold about 4GB of music and he's dropped it so many times that the headphone socket doesn't work any more anyway.
When he wants to listen to one of his uncle's CDs, he goes to the front door to fetch it, takes it out of its case and puts it into his laptop. He feels absolutely no compulsion to devise devious ways of wasting a week of life filling fragile hard disk space with illegally produced MP3 files, some of which he may never ever listen to.
Ultimately, this is not an issue about how to rip multiple CDs – which has been discussed to death online for the last decade – but a question of how I want to listen to music. Do I really need instant access to everything? I'm happy to keep a big bunch of e-books on my tablet, for example, without feeling compelled to copy the entire Gutenberg Project to it.
Probably the best thing is for me to don a red tracksuit, get a curly perm, grow a thin moustache and say to myself: "Calm down, calm down." Getting my open-crotches in a twist over digitising every bloody thing that comes my way is getting out of hand. The physical, tactile portability of music on a disc is a joy, not an obstacle.
The process is simple: want music, get music, put music in magic box, listen. Why mess about with that? ®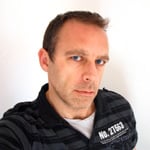 Alistair Dabbs is a freelance technology tart, juggling IT journalism, editorial training and digital publishing. The best personal MP3 player he ever owned was a gigantic no-brand housebrick with a belt clip. Wearing it under a jumper made him look pregnant and it spontaneously erased its own memory every two weeks but the audio quality was like nothing he has heard before or since.
Source Article from http://www.theregister.co.uk/2013/09/27/something_for_the_weekend_mp3s_vs_cds/