Do you have a packet of Lurpak butter to hand? Good. See the two twirly things on either side of the central heraldic device? They're lurs, curved brass horns popular in the first and second millennia BC in and around Denmark. A set of six of them were found in a field in Zealand in 1797, still in playable condition, and the Danes were so proud of them they eventually gave their name to one of the country's most famous and tasty exports.
Goodall's book opens with many even more surprising and fascinating factoids. The format of that ghastly show The X Factor was anticipated 3,000 years ago when ambitious or optimistic Greek singer-songwriters would belt their stuff out in front of an audience and a panel of specialist judges. A Mesopotamian clay tablet dating from 2600 BC gives us the oldest list of musical instruments that we have – and instructions on how to play them. But a flute carved from bone found in a cave in Germany has been estimated to be 35,000 years old, while instruments have been found in Swabia that are 12,000 years older still. There is plausible speculation that the sounds produced by these instruments would have been particularly useful for some kind of echolocation – ritualistic or otherwise – within the cave networks in which they were discovered. But the most thought-provoking and sobering detail comes very early on in the book, when Goodall reminds us that, until the late 19th century, it was unlikely you would hear your favourite piece of music more than three or four times in a lifetime.
A book that starts with these gobbets can be said to have done well in the art of grabbing the reader's attention, and, as Goodall progresses through the ages, he is engaging and informative – apart from once or twice, which I'll get to in a minute. There's one of those little stickers on the front cover of my copy which shows his face and the words «as seen on BBC» (sic), though I haven't seen the TV series to which this is a tie-in. It covers some of the same ground as his last book, from about 10 years ago, Big Bangs: The Story of Five Discoveries that Changed Musical History: musical annotation, equal temperament, the LP, etc. That book read more like the verbatim script of a TV series than a proper history; The Story of Music doesn't suffer from that fault.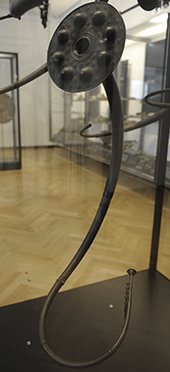 The lur horns, dating from 1200-700 BC. Photograph: Prisma/Getty


It does, however, suffer from the reluctance of the British to think. It's all part of the grand British tradition of near-philistinism – remember Thomas Beecham's line about the British knowing little about music, but loving the noise it makes. This country is still nowhere near producing a musical critic as penetrating and controversial as Theodor Adorno, so when Goodall describes pretty much the entire output of music inspired by Schoenberg's serialism or atonality ‑ Goodall equates the two terms, but he knows perfectly well that they don't mean the same thing – as having produced «not one piece of music that a normal person could understand or enjoy», it doesn't come as a shock. And this is the book's other fault: the last specific piece of music he mentions is «my own setting of the New Testament's Beatitudes», which he is proud to note «spent half a year at No 1 in the specialist classical charts».
I try not to let this bother me. The rest of the book makes a good effort to transmit the beauty and power of music in words, such as his description of the final cadences of Mahler's Das Lied von der Erde. His account of the development of music from Haydn to Schubert is masterly (if a little hard on Haydn for my liking, and did he really need to compare Schubert with Adele?). He makes particularly good points, I think, about the contrast between musical style and political turmoil around the end of the 18th century; and, earlier on, the progression from plainchant to the kind of music we accept under that name today. Argue with him if you like, but he knows his stuff, and tells it well.
Source Article from http://www.theguardian.com/books/2013/oct/22/story-of-music-howard-goodall-review